(Ages 5-12)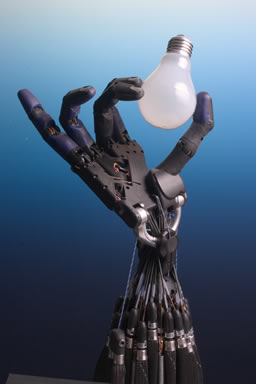 Even the most complicated robots are made from the same basic building blocks:
Resistors, capacitors, transistors, actuators, servos, sensors, lithium-ion batteries, and PCBs.
Ever wonder what these are and what they do?  Come and find out!  In this hands-on workshop we will look at, play with, and learn about the many electronic and mechanic components used in the field of robotics.
If you love robotics, but haven't been quite sure where to start, then this class is for you!
Learn the skills you need to take you from dreaming and talking about robots to actually designing, building, and programming them!
Students will learn about the basics of electricity, batteries, motors, and electronic components in a safe and fun way. We will start by learning about the concept of a circuit.  Students will get to work together as they snap together a circuit using batteries, magnets, and LED lights. We will look at and talk about some of the basic components (building blocks) used in robotics. We will learn how all these components work together to make phones, TVs, computers, and of course Robots!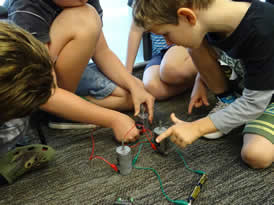 Dates and Locations
No public classes are currently scheduled for this workshop.

Group Bookings
Class
Price
per student
Length
Standard
$10
1hr
Deluxe
$15
1.5 - 2hr
Extended
$45
3hr
The Deluxe version allows each student to make and keep a small electronic robotic project
such as a Solar Race Car Kit.
The Extended version is a half-day workshop allowing students to go even deeper.
Also includes a Solar Race Car Kit for each student.
Group Size: This workshop is suited to groups of 20 - 200 students.
Larger groups will be split into smaller classes of approximately 15 - 20 children,
with classes running back-to-back. Length can be adjusted to suit group requirements

Minimum group booking of $700 required
Workshop Details
Prerequisites: None. Introductory course – no prior experience or skills needed.
Materials Required: None.  All are provided.